Planner Lounge - $2,500
Introduced last year, the Planner Lounge was a smashing success. During the tradeshow, it's a hub of activity for all attendees and the place to make connections. It comes with a Full Bar branded with your logo and passed hors d'oeuvres.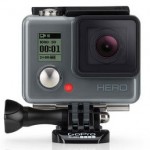 GoPro Giveaway - $500
This unique sponsorship allows you to make a very brief introduction of your team and to award a GoPro to one lucky planner.
Table Number Inserts - $1,000
These branding table number inserts will be displayed prominently and uniquely at each of the Planner's tables. This is a smart investment to put your brand in front of the planners you don't meet through your appointments.
Education BREAKOUTS – $1,000
Connecticut River Valley MPI is once again putting together cutting edge and planner focused programming for XSITE. You will be able to have your logo projected, introduce the speaker(s) and give a 1-2 minute presentation on your property, CVB or service.
---
Create Your Own Sponsorship
The only limit is your creativity. We'll consider all your X-siting ideas!